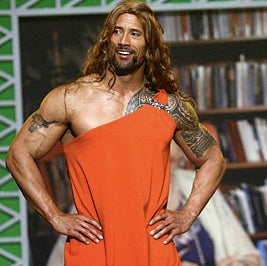 Next time you try to beat up a couple of women, make sure they're not men in drag. And also MMA fighters.
This lovely little story comes to us from Wales, where no one appears to think it's unusual that people go out in women's clothing for a bachelor party. But that's exactly what two cage fighters did, until they ran into two locals looking for trouble.
Dean Gardener, 19, and Jason Fender yelled taunts before Fender, 22, swung a punch at a man in a pink wig, short skirt and boob tube.

His pal, in a black dress and wig, felled the yobs with two blows. The cage fighters, who were on a stag night, walked off in their high heels.
I'm pretty sure this reads similar to the blow-by-blow of Kimbo Slice's last EliteXC bout.
'Trannies' 2 Yobs ..... 0 [The Sun]