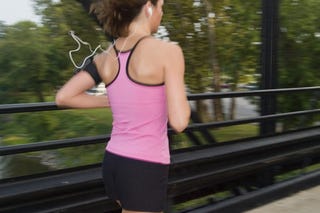 By the time you wake up tomorrow, you might be the winner of Milwaukee's Lakefront Marathon. Because every time they declare a victor, they turn around and get disqualified.
Cassie Peller won the race on Sunday, but was DQ'ed shortly after for accepting a water bottle outside the designated water stations. (Dehydration is secondary to following the rules.)
That made Jennifer Goebel the winner, until photos surfaced online of her listening to an iPod while running. That is, like everything else, against race rules. After a hissy fit on this bulletin board, she was disqualified yesterday.
The crown and the $500 top prize then fell to Corina Canitz, who promptly donated the money to charity, wary of the Lakefront Marathon curse. So as of now, the fastest woman in Wisconsin is a 42-year-old mother of four. Until she's disqualified for, I don't know, breast feeding or something.
Second Lakefront Marathon Winner Disqualified For iPod Use [Milwaukee Journal-Sentinel]