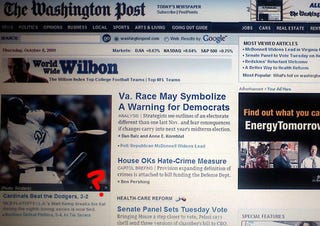 Got an image you'd like to see in here first thing in the morning? Send it to tips@deadspin.com. Subject: Morning crap.
No, not the hate crime bill. Over there in the corner. (Click to enlarge.) It seems someone on the Washington Post web staff—who may or may not be a fan of The Wilbon—jumped the gun on the Cards-Dodgers final last night. I mean, there was pretty much no way for the Cards to lose that one. No way at all. Unless....
It's no Dewey defeats Line Drive, but I'm guessing Matt Holliday will probably want to stay hidden under the covers this morning.
[Photo grabbed by reader "Boon Doggle"]
* * * * *
So they're tearing down Giants Stadium and Bruce Springsteen wrote a song about it. Why didn't anyone ever write a song about the Kingdome?