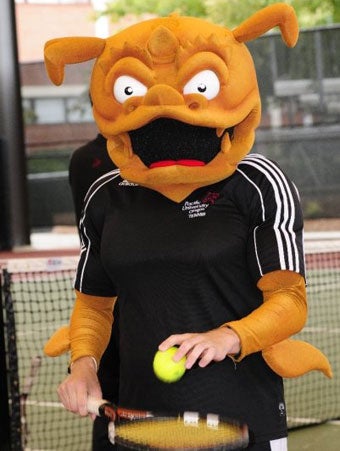 Pacific University—not to be confused with The University of the Pacific—has a mascot who likes to play tennis. He may also be the Gatekeeper of Gozer, but I wouldn't worry too much about that.
Why is that dog so ugly? Because he's not really a dog. "Boxer is a 60-pound bronze statue. The part-dog, part-dragon idol is much like good luck statues found outside homes in China for good luck." He's named after the Boxer Rebellion (#14 on the list of World's Most Fun Rebellions) and turning him into a friendly foam-built creature does not make him more cuddly. At least this is one mascot who can actually strike fear into opponents. And small children. And pets.
After Two Years, Pacific Tennis Returns Home [Photo via GoBoxers.com]
* * * * *
Another Friday, another job done. You've got two baseball games tonight, then I'll be back tomorrow to learn about this thing called "college football." I hear it's quite interesting. Barry Petchesky on Sunday, I believe. Won't you please join us?
But first....sleep. If you dare.