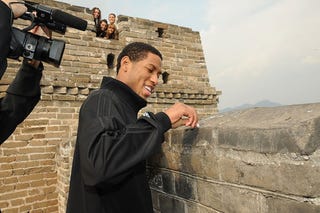 Got an image you'd like to see in here first thing in the morning? Send it to tips@deadspin.com. Subject: Morning crap.
The Pacers and Nuggets are playing a couple of exhibition games in Taipei and Beijing, in a desperate attempt to sell a Yao-less NBA to the Chinese. On an off day, the Pacers traveled to the Great Wall where Danny Granger defaced one of the world's treasures. His inspiring message, sure to endure the centuries like the wall has?
"Pacers Wuz Here!!!!!"
But that's okay, it looks like he still has some female admirers. Unfortunately for him the wall has proved capable of keeping out groupies as well as Mongols.
•••••
Good Sunday morning. Today is when men, and not boys, play football.