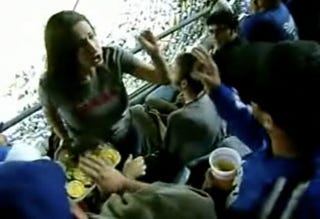 I didn't think so. Today's video, like yesterday's, comes from the lovely city of Los Angeles. But there's a twist: our antagonist is a Cardinals fan. Best fans in baseball!
There are some other differences from the Red Sox sisters' fight. For example, this time it's pretty clear who's escalating things. (Hint: In these situations, it's always the person who won't turn around.) And the boyfriend really just wants to watch the game, as his mortification seems to overwhelm his protective instincts.
While the climax of this battle can't top the Tasering of a Sox fan, this woman being pushed/falling down the stairs does wrap things up pretty nicely before security arrives.
And how about Angelenos, putting the lie to misconceptions of their passion as fans? I suppose the Laker riots gave us a taste of what gracious winners they can be.