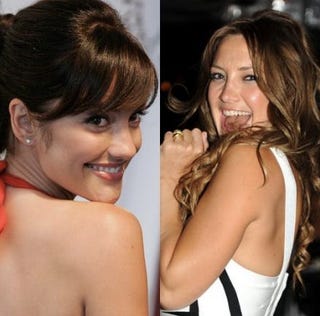 Looking toward a deep playoff run, the Yankees are trying to get their ducks in a row. That means telling the wives and girlfriends to stop being mean to Kate Hudson.
Page Six reports that New York brass has warned the women to stop talking shit about A-Rod's ladyfriend to the press, a smear campaign allegedly orchestrated by head Mean Girls Minka Kelly and Laura Posada. Kelly, specifically, is said to be upset with Hudson's constant front row and nightlife appearances.
The Yankees told the girls to be careful who they spoke to about Kate. They are concerned about the ramifications for the players."
The feud between the starlets (though I'm not sure Kate, with how she's looking these days, deserves that moniker anymore) doesn't seem to have torn apart the clubhouse, as Kelly has re-energized Jeter in a way that Vanessa Minillo and Jessica Biel couldn't, while a single and happy Rodriguez is shaking off his October stigma.
No word on whether the ladies disapprove of Hideki Matsui's left hand.
No Hate For Kate [NY Post]