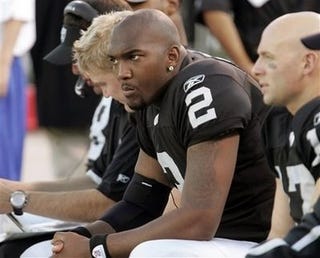 I know it's cruel to keep featuring the Raiders today, but it was cruel of CBS to put them on my television. And really, holy crap, JaMarcus.
•Bengals 17, Ravens 14. Cincinnati officially confirmed for the most confusing team in the league. They barely beat Cleveland, then they barely beat Baltimore? I don't know what to think. Andre Caldwell hauled in a touchdown with 22 seconds left, and that vaunted run defense couldn't stop Cedric Benson.
•Steelers 28, Lions 20. This one wasn't as close as the score, but you know Pittsburgh really misses Troy Polamalu when Daunte Culpepper throws for 282 yards. Big Ben spread it around, hitting six receivers at least twice.
•Cowboys 26, Chiefs 20. Dallas might have found themselves a number one receiver. Miles Austin caught ten passes for 250 yards, including a 60-yarder in overtime to steal the game.
•Giants 44, Raiders 7. When you lose 44-7, and your seven points come right after the refs blew a call that should have a fumble return for a TD, you are historically, hysterically bad. David Carr took over in the first half. The first goddamn half.
•Vikings 38, Rams 10. Minnesota also ran their record to 5-0, but let's not give anyone too much credit for beating the Rams. Peterson was Peterson, and Favre was old Favre, and no one can tell me the Rams won't go 0-16 this year.
•Eagles 33, Buccaneers 14. Mike Vick completed his first pass, for all of 3 yards. Luckily for the Eagles, Donovan McNabb threw for 264 more. A couple of bombs to Jeremy Maclin made sure this one was never close.
•Panthers 20, Redskins 17. In a game won by the Panthers only because somebody had to win, the teams combined for only 446 yards of total offense.
•Browns 6, Bills 3. Cleveland had nine first down all game. They completed two passes (that's a 15.1 passer rating for Derek Anderson). And they won. This was the worst Sunday of football ever.