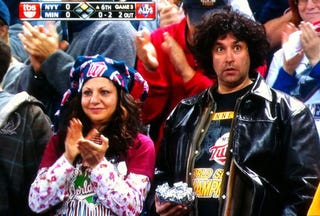 Got an image you'd like to see in here first thing in the morning? Send it to tips@deadspin.com. Subject: Morning crap.
A lot of you took notice of this dude during Game 3 of the ALDS last night. He looks both shocked and amazed at ... something. Is it whatever he just ate out of that tinfoil package in front of him? Did the woman in the jester hat just tell him that she's only 17? Are the voices back?
Or did he just notice that he's watching a baseball game ... indoors. Like ... whoa, man. That's pretty heavy.
UPDATE: As a few commenters have pointed out, it looks like this is Chris Mars, former drummer of The Replacements, and his wife, Sally. Rock on, kids.
* * * * *
Welcome to another Monday. Was your weekend productive? Yeah, neither was mine.