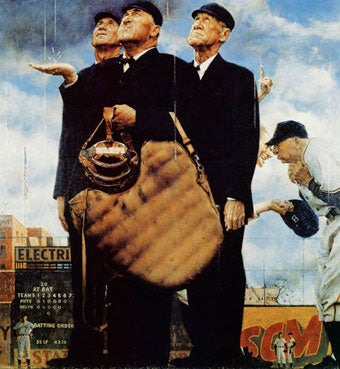 The umpires managed to not screw up the Phillies-Rockies game last night (I think), but that hasn't stopped people from continuing to talk about how horrible they are. Today's solution? Let's turn baseball into tennis!
There's already been talk of expanding instant replay to more situations beyond home run calls, but as Jonah Keri of the Wall Street Journal points out shouldn't we be able to get rid of the umpires altogether? The technology used at major tennis tournaments has pretty much put line judges out of business (although they still let them sit in those prime seats so Serena Williams has some to talk to), so that solves all those fair/foul questions. Balls and strikes are even easier to handles since every Major League park already has the "Pitch-f/x zone evaluation system" that the league uses to assess their umpires' ability at the plate. If the Pitch f/x machines are the ones telling the humans what is and isn't a strike, then why do we need the meatbag standing behind the catcher? Just cut out the middle man.
All that's left is tag plays and force out on the base paths. That's simple—radio-transmitting baseballs and pressure activated base alarms that will determine if the ball hits the glove before the foot hits the bag. (Also works for trapped fly balls in the outfield.) And for the occasional rundown, pickoff play, or hit batsmen, we just make everyone wear those Laser Tag sensors. We've had the technology since 1986. What's the hold up?
Or we could just make sure that the best people umpires work the biggest games and also fire those that suck at their job, but that seems a lot less fun. The robots are going to enslave us anyway, so what's the use in fighting it?
Does Baseball Need Umpires? [Wall Street Journal]
Palermo wary of more replay in baseball [Kansas City Star]
Blown calls in playoffs? 5 ways to break ump slump [AP]