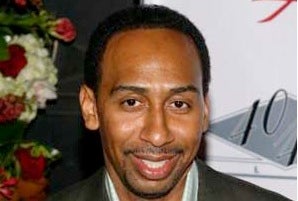 Stephen A. Smith is back in Philadelphia media, taking a part-time gig at 950 AM97.5 the Fanatic in Philadelphia to go along with his politically-subversive talking head appearances on CNN and MSNBC.
Speaking of politco SAS, he popped up on CNN yesterday to let America know that those testy black players in the NFL who claimed they wouldn't play for a Rush Limbaugh-owned St. Louis Rams are damned liars.
"If he has the money, there's absolutely nothing wrong with it, and those black ballplayers that are saying that, I'm here on national television telling you they're lying through their stinking teeth."
I'm assuming all-caps emphasis is on "LYING" and "STINKING TEETH."
On radio, however, Stephen A. is more self-deprecating.
According to one reader, SAS's first radio appearance (a quickie two hour slot between 10-12 co-hosted with Something Called Dan Schwartzman) went something like this when the Limbaugh issue came up:
DS: I'm not done with you yet on this issue!
SS: I'm not done with you either! Don't make me throw this Blackberry at you! (loud but in a joking manner).
DS: You'll never throw that at me. A brother would never throw a Blackberry because he would then have to replace it. (
SS: You're right. (just a notch above crickets.)
They're like the new Sinatra and Sammy Davis Jr.
Stephen A. still hasn't landed the print gig he covets in order to return to full-blown multi-media platform punditry, and with the Philly Inquirer on the verge of vanishing, he'll probably have to look elsewhere. I hear Comcast is hiring.