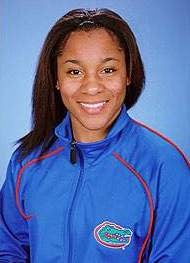 A University of Florida gymnast was arrested yesterday after police discovered "a safe, nine shotguns or rifles and two computers" in her apartment, all of which were stolen by her totally awesome boyfriend.
Melanie Sinclair, a nine-time All-American and three-time All-SEC gymnast for the Gators, was busted yesterday after her boyfriend—21-year-old Bud Williams—told police that she knew the stuff was stolen. Williams himself was busted two weeks ago after cops got a tip that someone was selling guns out of the apartment complex and while they were staking it out, he was seen strolling across the complex with a loaded 12-gauge shotgun. He later told police that Sinclair not only knew about the loot, she was "playing" with the guns and he tried to give her a necklace that he found in the safe.
Oh, and if that wasn't damaging enough, police taped a jailhouse phone conversation (yes, they can do that) between the two where Williams instructed Sinclair to lie to the police. It sounds like he's not the best boyfriend in the world. Or the best criminal.
Sinclair, who has three perfect 10.0s on the uneven parallel bars in her career, has been suspended from the team indefinitely. (Gymnastics season begins in January.) It's too bad she missed her mandatory 15 minute appointment with the school quarterback, because her life would have been better for it.
Standout UF gymnast and her boyfriend arrested [Gainesville Sun]
UF gymnast arrested for storing stolen goods by [Orlando Sentinel]
Gator Gymnast Behind Bars [Video @ WCJB]