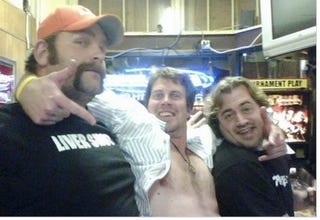 New blue blood/great white hope, Ryan Leaf has finally kicked his silly vicodin addiction and is busy starting his life over (again) in "environmentally soothing" Vancouver, B.C. He says he's finally found the cause of his personal problems — football.
No coaching, no mentoring, no pigskin-related jobs for Ryan Leaf in the near future. For now, he's working with a fishing trip-planning company. And that's alright with him, as long as he's not being haunted by all that football stuff anymore.
"I sort of decided I didn't want to play because, for something I loved for so long, it sure gave me a lot of pain," said Leaf. "Even when I got out of recovery, the first thing on my mind was to do something football-wise. Maybe do something with the B.C. Lions, because I assumed I couldn't do anything else. All I knew was football, and then I just thought about it more and more, talked to my counsellor and my family, people around me and realized, for something that I loved for so long, it continued to give me pain."
Leaf has also now come to terms that he was a friendless dickhead during most of his playing days to his hyper-competitive nature. And when he was pill-popping, he became an anti-social nightmare for most of the people in his life. And he hates reporters, too, even though he's obviously talked to a couple of them in recent days to let them know about his recovery. But he'd rather not.
To be honest with you, I didn't want to do any of this," said Leaf, near the end of an hour-long interview in his downtown Vancouver apartment. "I don't want anybody to know anything about me. I'm scared to talk to reporters, because I never know. I've got such trust issues with them. But, if it helps the company that gave me the support, and they were willing to go hire a PR firm (to help me) . . . I'm putting my faith in a PR firm that does this for a living."
And Leaf plans on staying in Canada once he gets all his court dates and visa issues settled, so there is a chance that we will never, ever hear about Ryan Leaf again. It's the end of an era. Again.