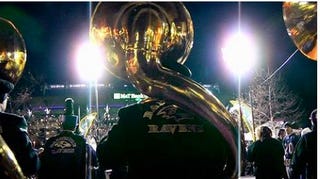 The Sports Fella, and the network he fights with and occasionally works for, have put a lot of time and effort into rolling out the new "30 for 30" documentary series. So how is it?
Well, judging by Tuesday's installment, the verdict is clear: It's really good.
Last night's documentary was "The Band That Wouldn't Die," by Baltimore native Barry Levinson ("All I did was I parked the car on a nice lonely road, I looked at her, and I said fuck or fight."), about the Baltimore Colts band that continued playing on after the team left for Indianapolis. And while it had the occasional goofy flourish (odd camera angles, constant shifts between black-and-white and color photography, but a surprisingly low amount of star wipes), it still made for excellent television.
The best part was watching old footage of Robert Irsay, who was a fucking LUSH, going off on reporters during a press conference where he adamantly denied talking to officials in Phoenix about moving the team (he had). There was also a story from Jim Irsay about his father calling him while piss drunk and demanding he fly to Indy to try and move the team there, then not remembering the conversation when Jim called him from the city the next day. Drunk, old, shitty people never stop being amusing. They also interview Steve Bisciotti, who looks like he goes clubbing with Steve Lavin at least six nights a week.
On the surface, 30 for 30 is a foolproof idea. You take 30 gifted filmmakers, and you let them shoot an hour-long documentary on various sports stories from the past 30 years. Sounds like a perfectly reasonable idea that would be easy to get approved and execute. But the fact that the simplicity of that idea made it through the halls of Bristol unscathed is clearly some sort of small miracle. There wasn't a single sepia cutaway to Chris Berman during the entire movie last night, and Lord knows how many retarded ESPN execs probably asked for something inane and pointless like that to be included.
I do a lot of work in advertising. Good ads, in theory, are the result of very simple, good ideas. The reason most ads SUCK is because those ideas usually get put through a wringer of jackassery that leaves them lumpy, battered, and ruined. Remember five years ago? Remember ESPN25? Remember seeing Stuart Scott for three hours a night lecturing you about just how awesome ESPN made the world over the past quarter century? The fact that the network decided to pull its head out of its own ass and go down a more tasteful, rewarding route is quite the feat. I'm betting it wasn't easy. I'm betting Mr. Simmons had to do quite a bit of fighting to make sure this thing wasn't fucked with. So hats off to Billy Boy and company for pulling it off.
NOW FUCKING FIRE GRUDEN.