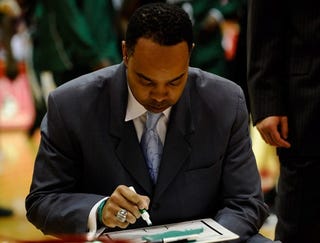 Binghamton has placed coach Kevin Broadus on a paid leave of absence, at last giving in to the widely held perception that Broadus had recruited the Hole-in-the-Wall Gang to the shores of the Susquehanna.
Here's the press release, from the school's interim athletic director, James Norris:
There have been continuing incidents of concern related to the men's basketball program that do not measure up to Binghamton University's high standards. After discussions with President Lois B. DeFleur and Vice President James Van Voorst, earlier today I placed Coach Kevin Broadus on paid leave of absence from his head coaching duties until further notice. Additionally, Coach Broadus has assured me of his cooperation with the upcoming athletic program audit being conducted by the Honorable Judith Kaye, retired.

Assistant Coach Mark Macon will assume the duties of head coach on an interim basis. He is an excellent coach and I have every confidence in his ability to provide strong leadership to the team. Our players have worked very hard in preparing for the upcoming season and I am looking forward to working with Mark in guiding the basketball program in a positive and successful direction.
So, in the past month alone, six players have been dismissed; an athletic director has resigned; and now the head coach has gone on leave, having nevertheless achieved his greatest goal. Binghamton looks every bit like a big-time Division I program now.
Broadus Placed on Paid Leave [The New York Times]