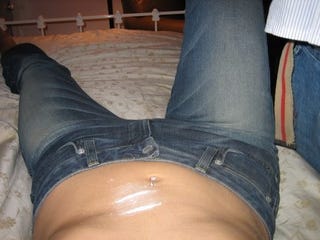 Good morning, early risers/late night partiers. It's going to be a hectic, confusing day here at Deadspin (and most of Gawker media's sites) because, once again, they're dicking around with the comments recipe. Let's chop it up.
You now have THREE (tres, trois, drei) ways to contribute to Deadspin and make yourself semi-internet famous:
a. Post tips and clips/photos/etc directly to the site — when you choose, not when we decide to post on a topic. See that box up there that says "Did you see that?" That's where you do this.
b. Create forums where you can chat. You can now create your own forums. So, say we didn't talk about the MNF game but you really, really want to discuss it, you can go right ahead and start talking about it by going up to that little box, typing in a hashtag #MNF and then start discussions. And you can create your own to discuss nonsense anytime you want: #rumors, #thisnewcommentingsystemsucks, #ruinationofdeadspin, #wheresmystar?, #ihateitalians, #RIPFrog., #picturesofstripperswithcokeontheirbelly. Etc. Be creative. Be bold. Be daring. Knock yourselves the fuck out, I'm told.
c. And of course you can still respond to a post or to another comment. In fact it's easier to keep track of those discussions: You'll now get an alert that your comment has been promoted, demoted, etc., making it much to track your successes and failures in the commenting arena.
And why is all this happening? This explanation comes straight from the disembodied head of Nick Denton:

The commenters — since we opened up our properties four years ago — have influenced our sites more than is acknowledged and sometimes more than is comfortable.

Their vocally expressed disdain has drummed out writers; their wit has preserved editorial personality even as our front pages have become more professional; they've steered the discussions, often way off-topic; but just as often they've suggested better headlines and story angles; former commenters such as Ryan Tate and Richard Lawson have written themselves into paid writing jobs; and reader-tipsters have supplied many of our best stories.

And yet we've always insisted that tips and letters to the editor are sent in by email and mediated by our editors; that discussions stay on topics that we determine; and that our writers are the only ones who can initiate stories on the site. No longer.

With the launch of Gawker Open Forums, we're allowing readers to post tips, sightings, game cheats, amateur pap shots and spy photos directly from a form on the front page. Readers can also initiate discussions on any topic they choose simply by including a Twitter-style hashtag in their post. And commenters can expand on a story, or rebut a post, just as now.

We have no idea what uses people will make of these forums. But we suspect that many of them will be mischievous. And that's fine — because we like mischief too.
Christ, he's terrifying.
Now, enjoy the day messing around with all of this stuff. I'm at the airport right now headed to Vegas for Blogs With Balls 2.0. If there are any problems (there will be) leave a comment and let us know. Make sure to write your complaints in ALL CAPS because we enjoy being yelled at.