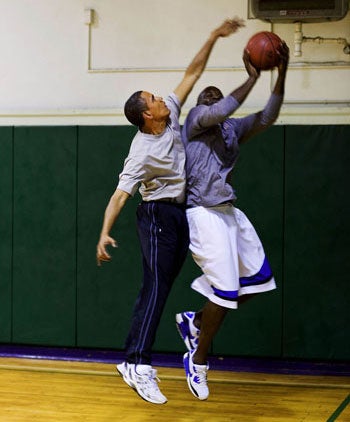 Got an image you'd like to see in here first thing in the morning? Send it to tips@deadspin.com. Subject: Morning crap.
I guess you're all too traumatized to send us any funny pictures this morning, so we'll ease you into this transition with some politics. That's Reggie Love, a former scholarship athlete at a major Division I basketball program, getting owned on the court by some skinny old dude. This would be terribly humiliating for Mr. Love ... if it wasn't for this. I guess once you enroll at Duke University, you're pretty much beyond embarrassment.
Youth Versus Age: Obama holds his Own Row 2, Seat 4 [FoxNews]
* * * * *
Funny how the Big Boss Man chose this particular hour to be 35,000 feet in the air and beyond the reach of angry emails. Curious, indeed.
Anyway, the regular commenting mode has not changed, so let's not lose our heads yet, people. First, we'll check on the leftover bagels and if there's no cream cheese, then we'll panic.