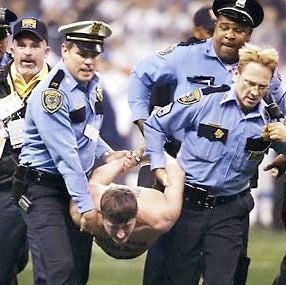 Didn't Janet Jackson teach our nation's children that nudity at football games is anything but harmless? Now one high school student is facing criminal sexual conduct charges after his streaking across the field caused a near-riot.
Streaking is serious business at St. Francis High School in Minnesota. It's emerged as an annual homecoming tradition, but to surprise authorities, students have struck twice earlier in the season. So come homecoming, police were ready. Would anyone be daring enough to taunt the bull a third time?
Obviously, yes. And he had the will of the student body on his side:
It was on the edge of being out of control," said Police Chief Jeff Harapat. "More than 500 kids surrounded the two officers, swearing, throwing pop bottles and tennis shoes. ... I guess they were upset that one of their fellow students was being arrested."
As if charging a 17-year-old with a sex crime isn't enough, Chief Harapat has also mastered the bizarre analogy:
At what level of a crime does that stop? For example, if you're at McDonald's and having a Happy Meal with your kids and some adult male gets kicked out because he isn't wearing a shirt. And he obviously isn't right in the head and he goes outside, pulls his pants down and pushes his butt up against the glass while you're eating. ... Now tell me what the difference is when we fill a stadium with parents, minor children, and some very small children and we have naked people running across the field," he said.
Or, say, exposing yourself in a Costco?
St. Francis Students Learn That Streaking Isn't Prank It Used To Be [Star Tribune]