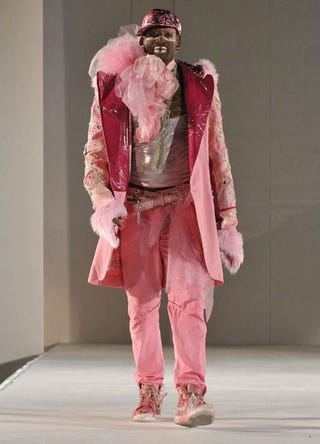 Got an image you'd like to see in here first thing in the morning? Send it to tips@deadspin.com. Subject: Morning crap.
Here, via Dlisted, is famous rebounder Dennis Rodman, 48 years old (!), walking down a runway somewhere in your fever dreams, looking like a tall drink of Pepto-Bismol. He was part of some sort of fashion benefit to promote awareness of both breast cancer and Dennis Rodman. Somewhere, a Bulls scorekeeper just credited him with another rebound.
Open Post: Hosted By Dennis Rodman [Dlisted]
* * * * *
Good morning, everyone. It's Friday. Daulerio's still committing various felonies in Las Vegas, and the Deadspin highlight frog has gone AWOL. This one goes out to you, highlight frog. Wherever you are.