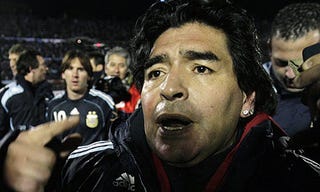 Argentina's greatest soccer hero has caught a lot of flack since taking over the national team and leading them almost nowhere. But after dramatically securing a last-minute World Cup berth, he let loose with an epic kiss-my-ass tirade.
The Argentines needed six points in their last two qualifying games to grab a World Cup spot for 2010 and after Wednesday's 1-0 victory over Uruguay sealed the deal, Diego Maradona decided that would be excellent opportunity to tell everyone who criticized his coaching ability to get bent. His postgame press conference began with "You lot take it up the arse" and only got better from there.
"I also want to dedicate this to the whole of Argentina, to my family too, but there is one group who do not deserve this because they have treated me like rubbish.

"I don't usually read the newspapers or listen to sports programmes but my daughters do and they told me what had been said about me. So, I repeat, to all those that said anything against me, keep eating your words.

"But certain people who have not supported me, and you know who you are ... they can suck it and carry on sucking it.

"This is for all Argentines, minus the journalists.
The only downside to this rant is that he did not cross his hand and gesture toward his crotch in the customary "suck it" manner, but other than that it was a thing of beauty. It really comes to life in the original Spanish, but I think the translation suits just fine.
Can any actual Spanish speakers confirm that's what he's really saying?
Diego Maradona to face disciplinary action from Fifa for obscene tirade [Guardian]
Diego Maradona Tells Press To 'Suck It' After Argentina Triumph Over Uruguay [Yahoo! Sports]
Classless Maradona unloads on media after Argentina qualify [Examiner]