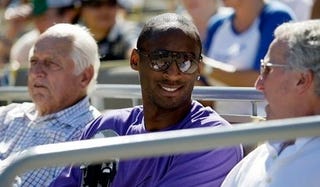 Kobe Byrant, the newly single Frank McCourt, and a very sleepy Tommy Lasorda took in Game 2 of the NLCS today. Of course, this was in the fourth inning, so the trio is probably already eating dinner in Malibu.
I know I'm not the first to point this out about mid-October, but this has to be one the best weekends of the year for sports. Two baseball playoff series, a full slate of college and NFL football, there's got to be an NHL game on somewhere and tonight is Midnight Madness. Even fake NBA can be had for the right price! There is literally something for everyone. Unless you like golf. That's why Zeus invented the Wii.
* * * * *
Anyway, this week is #over. How are those hash tags working out for everyone? Not using them at all, you say? Fair enough. Most of the kinks should be worked out by early next week, so do try to play around with it this weekend. Remember, use the big box on the front page to start new threads and yammer about whatever the hell you want. May I suggest #prayforfrog to get you started?
I have no idea who your weekend hosts are. Raise your hand if it's you! Otherwise just trust in the internet to provide you with one. It always does.