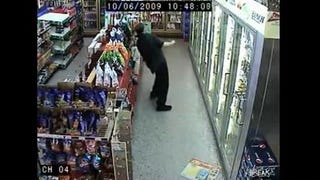 This video of an allegedly drunk guy trying to buy beer has been rapidly making its way around the tubes, but it's still worth a look-see.
Of course, the mouthbreathers that comment on YouTube are declaring the video a fake, but they almost always do.
Either way, it fooled Crimesider, "The True Crime Destination From The Producers Of 48 Hours Mystery." So there's that.
In the end, I guess it doesn't really matter whether the video is real or a fake - it's entertaining. And as a society, we rarely care whether or not something is authentic or if someone behind-the-scenes is pulling the strings. Take the MLB Playoffs, for instance.
Caught on Tape: "Drunkest Guy Ever Goes for More Beer" But Can't Get Off the Floor [Crimesider]