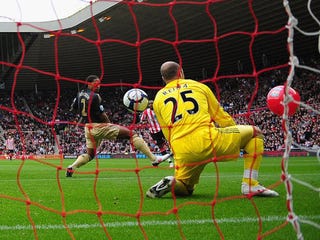 Strange things are afoot in the Premiere League. Sunderland got a break when the lone goal of the match was scored by Darren Bent after the ball caromed off a beach ball thrown on the field by some punk kid.
It was Liverpool's fourth loss of the season and they were none too pleased with the outcome. Despite protesting, the goal was allowed to stand even though the rules clearly state that:
...the referee has the option to allow play to continue if a "second ball" goes on to the field but should call a halt if it interferes with the action.

It also states he should stop the game in the case of "any kind of outside interference" but in reality matches are routinely allowed to continue with items like balloons on the pitch.

Former FIFA referee Graham Poll told the BBC the referee should have stopped the game and given a drop ball.
Sunderland, on the other hand, don't understand why everyone is making such a big deal about it. the game is over, they won, can't everyone move on with their lives?
"If that's the case then we've got away with one," Sunderland boss Steve Bruce told the BBC.

"I didn't know that was the rule to be honest. I hope that doesn't become the main issue as I thought we deserved to win overall, but I'm sure it will."

Bent, whose goal took his tally to six in five games, said: "The beach ball was sitting there in their six-yard box so if they leave it there they pay the penalty."
UPDATED: They can't catch all of them, can they?
Nice aim, Bent. I haven't heard about a ball bouncing off another ball with such force since Charlie Weis took up jogging for a couple of minutes.
Liverpool Left Deflated By Sunderland's Beach-Ball Winner [The New York Times]