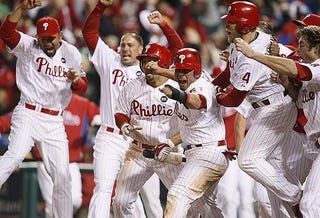 Because no one reads the newspaper, and SportsCenter's anchors are too perky for this early in the morning, Deadspin combs the best of the broadsheets and the blogosphere to bring you everything you need to know to start your day.
•You might be hearing about this a little later on this morning, if your esteemed editor ever wakes up. The Phillies are heading back to the World Series after disposing of the Dodgers in five games. Is Daulerio excited? Let's just say Center City Philadelphia isn't the only one with a greased pole right about now.
•Patrick Crayton is a little ticked his coaches didn't tell him before the media that Miles Austin usurped his starting role. With more yards and TDs in a single week than Crayton's had all season, I thought this is one of those things that didn't need to be said.
•Also mad at management: Cedric Benson says the Bears tried to blackball him from football after his two arrests. Funny, I thought it was his incompetence at football before his two arrests that did it.
•FOX is adding Ozzie Guillen as an analyst for the World Series. Given his unrivaled ability to string together profanities, we might see the first 70-second delay.
•A dozen members of the Browns have come down with the flu, and the NFL will allow them special roster provisions to restock the depleted positions. Unfortunately, both quarterbacks are perfectly healthy.
•Yes, I know we're bloggers, but we would never make like one San Antonio blogger who brought cookies to the locker room for Manu Ginobli. This blog only reports on personalities caught with their hands in the cookie jar.
•Finally, via Fark, we get a 12-year-old on the receiving end of a Taekwondo KTFO: