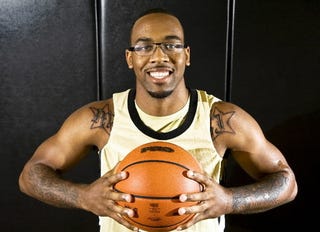 Marcus Jordan, son of Michael and a freshman at Central Florida, wants to wear Air Jordans. UCF has a contract with adidas. This is the Sophie's Choice of the third millennium.
The Orlando Sentinel's Iliana Limon reports:
UCF promised Marcus Jordan, son of NBA legend Michael Jordan, that he could wear his father's Nike Air Jordan brand for the Knights' basketball team this season.

The problem? UCF has an exclusive $3 million, six-year contract with adidas that requires all coaches and athletes to use the company's shoes, apparel and game equipment.

And now UCF and adidas are at an impasse, leaving an 18-year-old freshman with a famous father caught in the middle.

"When I was being recruited, we talked about it," Marcus Jordan said. "They said they had talked to the adidas people, and it wasn't going to be a problem. I think everybody understands how big of a deal it is for my family."

The deal has strained the relationship between UCF and one of its most important business partners, complicating current contract-renewal negotiations. The university's agreement with the company expires in 2010.
So, on the one hand, you have the contractual obligations owed to a needlessly hard-assed, Nazi-founded global apparel company; on the other, the personal autonomy of a kid who is fighting for his right to hand over his autonomy to a different global apparel company, per the wishes of his world-famous sneaker-pimp daddy. The only honorable thing to do here, it would seem, is for Jordan the Younger to follow Dad's example and wrap his feet in the American flag.
Shoes of Michael Jordan's son may risk UCF adidas deal [Orlando Sentinel]