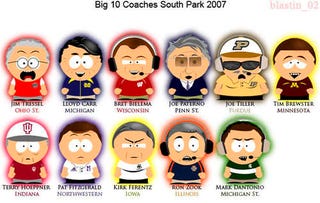 It's wall-to-wall Big Ten games, folks! Woo-hoo! Now who's ready for some parity and below-average college football?Anyone? Hello?
And yes, I am aware that the above depiction of Big 10 coaches as South Park characters is from 2007 and is obviously dated. Joe Tiller is no longer the head coach at Purdue, Lloyd Carr has been replaced at Michigan by the likable Rich Rodriguez and Terry Hoeppner, well, how do I put this nicely? He's coaching intramurals in the Big Football Stadium in the Sky, brother.
But hey, 8 out of 11 ain't bad.
You know where to find the games. Oh, and if you are one of the fortunate souls to get Versus, they are airing the Oklahoma State-Baylor game, if you usually choose to avoid Big Ten football like the plague.
Go forth and at least try to enjoy. Booze helps.