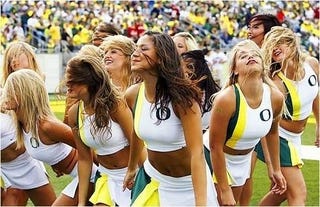 We have some pretty intriguing matchups on tap for the 3:30 ET slot of games. Let's have a look see, shall we?
On CBS, we got Tennessee at Alabama, and since Lane Kiffin is involved, anything could happen. Alternatively, you could watch Boston College at Notre Dame, although I have no idea why you would want to do that.
Depending on where you are in the country, world or solar system, you will be watching either #13 Penn State at Michigan (45%), #11 Oregon at Washington (19%), Clemson at #10 Miami (19%) or Oklahoma at #25 Kansas (17%) on ABC.
Enjoy. Allow me to remind you once again, liquor makes everything better. Except for field sobriety tests, I guess. Just ask this guy who got busted for a DUI in northern Minnesota last year driving the below "vehicle."
That chair is ten kinds of awesome.