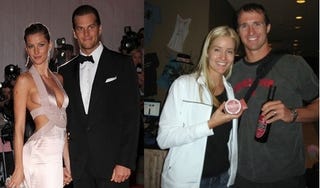 Sean Payton compared Bill Belichick's Patriots to Microsoft in a nice way. Belichick talked wistfully about deep-sea fishing with Payton. At some point tonight, the two men will hop off the tandem bike and coach a very important football game.
Use this as your open thread, and be grateful that something of note is happening in the sports world that does not involve Tiger Woods or Grady Sizemore's strategically placed cup of Oolong.
Saints, Patriots trade praise before swapping hits [CBSSports.com]
* * * * *
Thanks for your continued support of Deadspin.