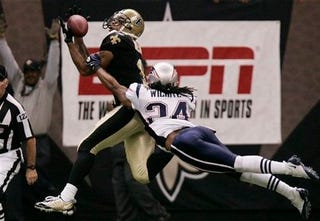 In sports, everyone is a winner—some people just win better than others. Like the New Orleans Saints, who smashed through the New England Patriots like they were an un-reinforced levee.
They didn't just do it with Drew Brees passing the ball wherever he wished (although he did do that) and they didn't just get some lucky bounces on defense (although they did get those) and they didn't do it because Bill Belichick secretly murdered his kickers. (Although he's still not afraid to go for it on 4th down.) The Saints sliced the Patriots up on offense and shut them down on defense. A couple of times they even made Tom Brady look like Drew Henson. This team is officially THE REAL DEAL.
In fact, looking at their schedule, I don't see where their first loss comes from. Does anyone other than Dallas even put up a fight? And do you have any doubt that Brees that can't pick that defense apart?
Best of all, any TV producers compiling file footage for their "How the Saints saved New Orleans" packages to be shown this January will not have done so in vain. Remember how awesome it was when people had to live in the Superdome for a week! Let's relieve that moment over and over and over again.
Dome housing a winner again [The Boston Globe]
Brees a godsend for Saints [San Diego Union-Tribune]
New Orleans Saints prove they are for real [NOLA.com]
Earlier: Saints Rebuild New Orleans For Fourth Consecutive Year
Honorable mention: Hackers who are exploiting your lust for all things Tiger Woods to install malware on your computers. Remember, kids—never visit any website that isn't Deadspin.com! (Seriously, don't do it. It's a scary world out there.) [Sophos]