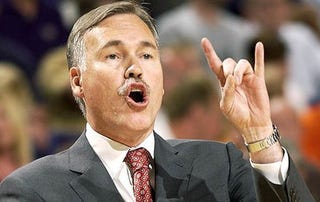 In sports, everyone is a winner—some people just win better than others. Like Mike D'Antoni, whose Rich Little version of the Suns ran the real thing out of Madison Square Garden last night.
The Knicks (who probably shouldn't be this bad) got a 27-10 out of Danilo Gallinari and dropped 126 points in all on the Suns (who probably shouldn't be this good). New York is still a mess. Donnie Walsh looks at Brandon Jennings and sighs, and D'Antoni turns his every press conference into an extended comic monologue on the wretchedness of his own team. But last night, at least, the Knicks finally did a serviceable impression of the Suns and in the process earned a standing ovation from a crowd that generally only rouses itself when a Yankee appears on the Jumbotron.
Honorable mentions: Boxing, which, as Barry noted earlier, might be getting that coveted title bout between Manny Pacquiao and Floyd Mayweather after all. And Big Ten basketball, which is no longer playing slow and dull and which finds itself tied 3-3 in the ACC-Big Ten Challenge with a passable chance of actually winning one of these things.