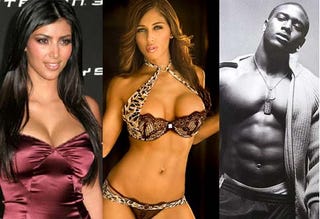 The woman who claims she came between Reggie and Kim Kardashian has released a video of her in a bikini at Bush's home. Also, she's gotten a creepily Kim K-like makeover. Fatal Attraction stuff, after the jump.
Carmen Ortega's name surfaced soon after Reggie and Kim's temporary split this summer, as the rumored homewrecker. Well, she's back, claiming to set the record straight. She does this by showing footage of her lounging around his Hollywood Hills home.
First things first: that is definitely Reggie's house. Compare:
And if you've got any lingering doubts, check out his custom made Suzuki in the video. But, interestingly, that bike was auctioned off in April, and Kim and Reggie didn't split until late July. Make of that what you will.
We're not sold yet. It's good timing for Ms. Ortega, the one-time "stripper/professional escort," if she's looking to make some fame. It's curious that the video is sponsored by a shady-looking ringtone company. And, above all, consider how much worth you assign to the word of someone who'll willingly tell the world she's the other woman.