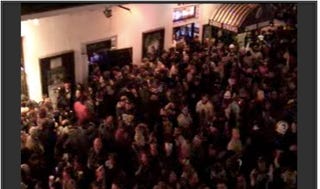 If you go to NOLA.com right now, you can watch their live Bourbon Street cam, which is a little sluggish because most of America is clicking on it, hoping to catch a stray boob.
For now, though, it's just a lot of slow-walking celebrations and occasional beads being chucked from buildings. No real signs of fights, no marching bands, no flashing, no public urination: it's like the most boring episode of "Cops" ever. But it's a happy one.
I'm sure in the next few hours, the photos will start to flow in, chronicling the joyful chaos. Until then, enjoy the afterglow of the third consecutive great Super Bowl.
If anyone else has front-line photos, send them to our tips line, please. If you're in New Orleans, be sure to file reports in our #iwasthere section.
Congratulations, New Orleans. You have exactly one hour left to keep "Who Dat?!" chants adorable and not annoying.