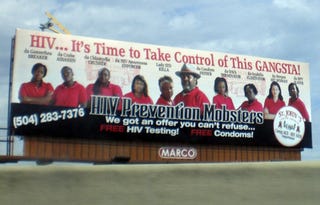 ABC News did a piece on on sex addiction and what Tiger Woods' new life will be like as the world's number one coozehound playing golf. He should fire Stevie Williams and bring on "Da Crabs Assassin" as his caddy.
Yes, this is a real billboard, which apparently caused some controversy last summer in New Orleans for its tough-talking stance on HIV prevention.
Also of note: in that ABC News piece you'll find interviews with our very own Northwestern basketball correspondent, Benoit Denizet-Lewis, and some insight into the Gentle Path facility, the former temporary home of Tiger and Steve Phillips, and future temporary home of one of our commenters. Deadspin worlds are colliding all over that place. And fornicating.
****
Thanks for your continued support of Deadspin. Barry will be here in a minute, as soon as he stops masturbating. Thanks to Gillin for the billboard pic.