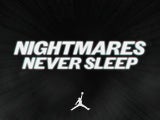 The chilling new Air Jordan 2010 commercial shows what it's like to guard Dwyane Wade – a nightmare. But it doesn't stop there. An online Nightmare experience challenges you to master the skills that allow D-Wade to strike fear in opponents on courts everywhere.


Immersed in the dark, unsettling Nightmare world, you must prove you have the reflexes, agility, focus and control to dominate like D-Wade. You can also use your webcam and Facebook to go deeper into the game…if you dare.
Check out the TV spot on YouTube, then prepare for a sleepless night at jumpman23.com/nightmare.