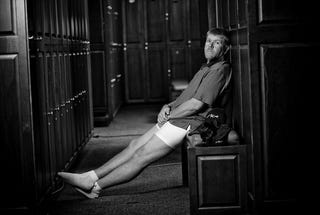 Might Daly have a post-golf career as an underwear model lined up? One thing's for certain: Daly had better have a post-golf career lined up.
I know, it looks photoshopped. But it's real, his head just looks too large since he got the lap-band surgery. And since Daly's now posing in his underoos, let's all be thankful he's had the lap-band surgery.
Slix! Yes, Slix, that miracle product "that's not only functionally superior to cotton, but also versatile enough to wear to the office, under jeans or shorts, working out, or under [your] board shorts at the beach."
I understand the benefit of using a celebrity spokesman, but maybe not when your product touts its functionality, something your spokesman lacks in his chosen profession.
As Daly says, "when I've got my Slix on, it's all good." Except his golfing.
John Daly [Twitter]
John Daly Gets His Slix On [Wei Under Par]