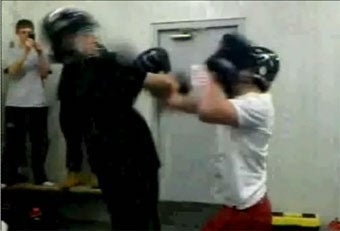 A shocking exposé by the Toronto Star has revealed a dark secret of Canadian youth hockey—twisted teenage Fight Clubs organized in team locker rooms. It also revealed another secret: This happens all time and no one cares.
Over the weekend, the newspaper posted a video of two 15-year-olds sparing after practice while wearing their hockey gloves and helmets. (It seems like pretty harmless horseplay, actually. Just be thankful they didn't use their sticks.) The story appeared to be the perfect storm of violence, moral outrage, and out-of-control youth mixed with plenty of Brad Pitt movie references, and it did generate plenty of reader response. Unfortunately, a lot of it was of the "who cares?" variety.
This video amounts to nothing more than a bunch of goofy, immature boys pretending they are George St. Pierre," wrote Terri Thomas. "It's no different than what happens in basement rec rooms around the country on a daily basis."
One parent with the greatest name ever, disagrees:
Letting the coach impose his own one game suspension is laughable," said Buck Anger of Dunnville, Ont., on Lake Erie south of Toronto. "This guy should be suspended for the balance of the year and the league should review whether he should ever be able to coach again."
The one thing everyone can agree on is that this happens in locker rooms all over the country and it's become as much a part of the game as stick tape and Zambonis. The coach of the team in the video gave himself and five of his players a one-game suspension, indicating that the league and hockey organizations in general have little interest in cracking down on something so stupid. Perhaps these kind of brutal attacks even took place in Vancouver this weekend? Admit it: when you saw "locker room boxing" and "Canada" you kind of assumed Chris Pronger had punched Corey Perry in the back of the head last night.
Perhaps two decades of locker room shenanigans have distracted the national team's younger players from the business of actually playing hockey. That could be why they've struggled so much in this year's Olympic tourney. (Or maybe Martin Brodeur is just old.) Perhaps they need to get back to fundamentals and keep the fighting where it belongs ... on the ice.
I mean, how are you going to knock anybody out with your gloves on? Don't they teach these kids anything?
Hockey dressing room fights widespread, coaches say [Toronto Star]
GTHL fight club shocks parents who urge crackdown [Toronto Star]