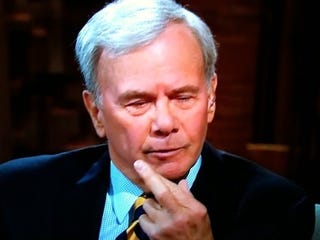 Here's Brokaw — NBC mascot, author of The Bestest Generation Ever, bewildered old man who occasionally wanders onto the Olympics set — gesturing during a fireside après-ski. Perfect. The network is basically an old guy giving you the finger, anyway.
Use this here space to discuss tonight's Olympics happenings. Possible topics: women's figure skating; Bode Miller; this absolutely unmoored tantrum from Jay Mariotti, who is outraged that Bode won't feed him some manufactured piety about the glory of the Olympics; Canada-Germany in hockey; and Sven Kramer's "sensational" speedskating DQ. Hat tip to reader Jenny C. for the screenshot.
Thanks for your continued support of Deadspin. Barry's here tonight.