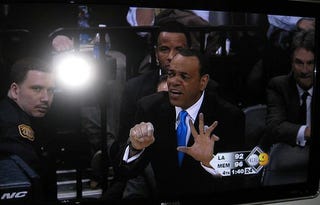 Because no one reads the newspaper, and SportsCenter's anchors are too perky for this early in the morning, Deadspin combs the best of the broadsheets and the blogosphere to bring you everything you need to know to start your day.
•The battle of the Gasol brothers was surprisingly exciting, coming down to a Kobe three with 4.3 seconds left. Though let's not forget Lionel Hollins's ill-advised techincal, worth one point in an eventual one-point game. But let's not worry about math. Hollins might have to count on his fingers, and it could get ugly. (Thanks to Logan for the screengrab)
•And here it comes. Former Oakland assistant Randy Hanson has brought suit against Tom Cable and the Raiders for damages after Cable assaulted him in August. But if he had been that good a DB coach, he would have had the punch covered.
•Herb McGee, coach of DII Philadelphia University, became the all-time winningest college basketball coach with his 903rd victory, over Goldey-Beacom College. And let me tell you, nothing could make it as special as doing it against Goldey-Beacom College.
•The class A Lansing Lugnuts sold the naming rights to their ballpark, so presenting: Thomas M. Cooley Law School Stadium. Which is fitting, since both Cooleys are filled with people expecting to get rich quick, but will likely end up toiling at a thankless job in real estate.
•No one yet knows if the Ozzie Guillen Twitter feed is real, but it's entertaining. Classic Tweets like "Iam tired from bad very bad golf" and "going to eat in half hour why dye no have a job ?" make this one of those accounts that you don't really care if it's real or not, you're still going to follow it.
•••••
The hockeypocalypse begins in just a few short hours. But Deadspin will do its best to cover something other than hockey, for once.