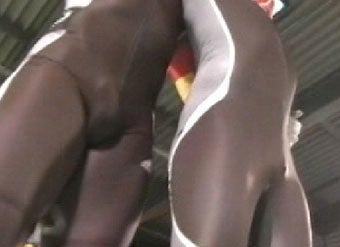 Don't read this post if you plan to watch the USA-Switzerland game at a time that is not when it's happening, which is now. Unless you want to stand around the Big Internet Twitter Cooler that all the kids love.
You see, "watching" television is so last century. If you actually want to be a part of human society, you watch television while at the same time going online and talking about it with strangers. (This is a replacement for the old human society, when people gathered in "groups" and "met.") Instead of talking about it with co-workers and friends the next morning, you talk about it RIGHT NOW with anyone who will listen.
Oddly enough, going online during big TV events has the bizarre effect of boosting the ratings of whatever everyone is watching. Like the Super Bowl or Grammys or the MTV Video Music Awards, all of which saw big boosts in popularity in the last year. You don't care about the show, you care about being able to talk about the show. This is called "community," which is also the name of a terrible show on a terribly out-of-touch network called NBC.
Seeking to capitalize on the online water-cooler effect, NBC showed the Golden Globes live on both coasts for the first time this year, and the network reportedly wants to do the same for the Emmy Awards this fall, so the entire country can watch (and chat online) simultaneously.
Super-smart NBC has figured out that what all these big blockbuster Twitter-TV combo events have in common is that they are happening live. Shows that are broadcast at different times in different zones (and probably DVR'd anyway) don't have the same effect. Yet, they have not applied this simple common sense approach to the Olympics.
Frustratingly, Olympic primetime ratings are also up this year and people are marveling about how sports fans will stay up long past their bedtime to watch events that they already know the outcome to, just so they can be a part of the phenomenon. It's not because they prefer it that way. It's because they have no other choice. People are still Twittering about curling at 2:00 in the afternoon. They're also Twittering about Lindsey Vonn—who crashed today; SPOILER—hours before they can see her crash on TV. They'll take what they can get, even when you give them garbage.
An NBC executive calls the Vancouver Olympics "a lab," because when you have $820 million invested in a project that's a good time to experiment. The concern is that the message they'll take away from 2010 is that sports fans don't care when the games air. The exec does understand that "people want to have something to share," but do they get that it's much easier to share something when everyone can see it at the same time.
TV Ratings Rise, Maybe With Internet's Help [NY Times]
* * * * * *
Anyway ... if you are watching now (sorry West Coast/people with real jobs) water cooler it up below. Here's a couple more rants to get you started:
————— Forwarded message —————
From: Kurt H
Date: Wed, Feb 24, 2010 at 2:01 PM
Subject: http://deadspin.com/5473084/still-angry-about-nbcs-olympic-coverage-send-an-email-to-dick-ebersol
To: ajd@deadspin.com

HEY EBERSOL
WHAT THE FUCK IS FUCKING WRONG WITH YOU , YOU FUCKING FUCK SHOW THE GODDAMNED FUCKING GAMES LIVE. YOU TINY DICK FUCK. DO YOU HAVE A FUCKING CURLING STONE SHOVED UP YOUR FUCKING ASS? FUCK YOU
Sam:
God damn. I picked the right semester to study abroad. It's pretty funny that while everyone complains about NBC's coverage (in a country that leads the medal count right now), I'm enjoying awesome BBC coverage (one total medal for the U.K. so far).

In short, BBC's Olympic coverage is awesome. They have one channel devoted for about five hours a night for coverage as live as they can get. If they don't have the sport you want, just hit a button on your remote and you can probably get it. If that doesn't work, it's always available free online.

For a country that does shit during the Winter Olympics, Great Britain sure knows how to broadcast the games. Hey, if something interesting is going on live, let's show it. Why the fuck not? God save the BBC.
Andy:
Back to the "Boss Button", I think NBC would like you to believe it was placed there to fool bosses into thinking you were working as discussed before with the shitty spreadsheet. Well that would be swell except the button is disabled during the commercials that air for 2/3 of their coverage. So I am pretty sure the "Boss Button" literally means it was a button/trap placed there by your boss and NBC to fool you into thinking you could hide your addiction of non stop mid-afternoon curling action.
Senor Delgado:
NBC seems to have laid off the promos for the cartoon movie about dragons in the past week, but it just pissed me off every time Al Michaels or Bob Costas would say something to the effect of "here's what the Olympics were like hundreds of years ago during Viking times . . ." and then they'd cut to the stupid movie promo with some sort of Olympic sport tie in. First, Vikings were like a 1000 years ago. And dragons never existed. So why does NBC feed us this shit?
From: Michael W
Date: Sun, Feb 21, 2010 at 7:39 PM
Subject: I want to watch the Canada/USA hockey game...
To: Christopher.Mccloskey@nbcuni.com, dick.ebersol@nbcuni.com
Cc: ajd@deadspin.com

...but, due to your indefensible decision to air skiing, bobsled, and ICE DANCING on your primary network, the most anticipated hockey game since the 2002 Gold Medal Game is relegated to MSNBC.

I don't have MSNBC on my satellite package. I have NBC. I have CNBC. I have NBC en espanol. I have something called Shop NBC which I can't imagine makes more sales than Vince's Slap Chop or Billy Mays' Tool Belt. I never watch any of those other variants of NBC. I do NOT have MSNBC, for whatever reason. Not that I would watch anything on there anyway... until today.

But FEAR NOT!! NBC's Olympics website is YOUR one stop place for everything Vancouver!! I'll just go there and access an online feed for the game. I REALLY don't want to sit in front of my computer and watch this game, but it's the Olympics and all of my friends will be talking about this game tonight and tomorrow. I'll suck it up and do it - I do it for regionally televised events, I can do it for events that are being shown on third rate cable networks.