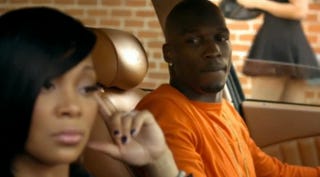 Because no one reads the newspaper, and SportsCenter's anchors are too perky for this early in the morning, Deadspin combs the best of the broadsheets and the blogosphere to bring you everything you need to know to start your day.
•Canadian papers on Sunday: "Marty Brodeur just had a bad game. We were the best team out there." Canadian papers today, after Evgeni Nabokov allowed 6 goals on 23 shots: "Our offense is incredible. We were the best team out there." Canada rolled Russia, 7-3.
•If anyone has any Finnish stereotypes, please leave them in the comments, because the Finns are officially America's mortal enemies through Friday. Niklas Hagman's power play goal with 6 minutes left broke a scoreless tie with the Czech Republic.
•The US eked out a 2-1 win in stoppage time over El Salvador, with a lineup devoid of our players in European leagues. Shameful. They play professionally in one country, only to turn around and try to beat them in international competition? Just like those dirty Finns!
•Kevin Durant didn't score 25, for the first time in 30 games. (He only had 21, plus 12 boards). Sure enough, the Spurs topped the Thunder in their return to San Antonio from their annual rodeo road trip. There's a very good chance one of these teams misses the playoffs, while someone like Milwaukee or Charlotte sneaks in in the East. Hopefully the new CBA allows for instantaneous, Mid-April realignment.
•Chad Ochocinco makes his music video debut, as the faithful husband in Monica's "Everything To Me." Which is more surprising: that he's not that distracting in the role, or that Monica has recorded music since "The Boy Is Mine?"
•••••
It's Thursday, and another goddamn snowstorm is rolling in here in the Northeast. Keep us warm with your love, won't you?