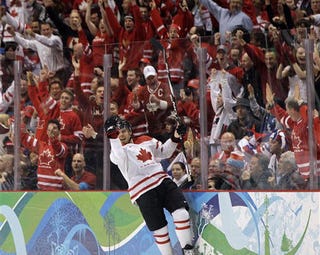 In sports, everyone is a winner—some people just win better than others. Like Canadians who, for the first time ever, have a reason to feel good about hosting the Olympics. Chin up, gang! You're good at stuff too!
Things are looking up for our northern neighbors, who just yesterday were contemplating getting 34,000,000 matching emo haircurts and enacting socialized poems about cutting. Then their hockey team suddenly remembered that they were the most talented in the world and delivered back-to-back pastings to their opponents, including Mighty Evil Russia. If that weren't enough, Sweden got upset up by Slovakia making the home team's path to the gold medal game a lot easier. And after the U.S.A.'s less-than-convincing performance against the Swiss ... let's just say they're doing very well this morning.
And it's not just hockey. Canada still lags far behind in the overall medal count, but after taking first (and second) in women's bobsleigh last night they are now tied with Germany and the U.S. for most golds—which is way more important depending on who you ask. (Their seven golds also ties a national record.) And they haven't even gotten to the sports they dominate yet, like curling and women's hockey, where they play the U.S. for gold today. If fact, depending on how things shake out the next few days, a potential U.S.-Canada men's hockey final could be for all the marbles. HYPE!
So bully for the Canucks. Maybe your complete disaster of an Olympiad won't turn out so bad after all. And it only cost you a billion dollars of debt.