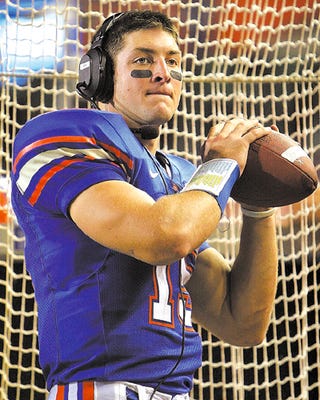 Fresh off news that Tebow won't show off his arm for scouts at the NFL combine, now comes word that he won't participate in any drills. You know how a really bad movie won't be screened for critics? Yeah.
No one blinked when Tebow said he wouldn't take part in passing drills, because he's working on a completely new throwing motion. And besides, the three best arms in the draft - McCoy, Claussen and Bradford - aren't going to throw for scouts either. But it's curious that Tebow won't run the forty, or lift weights.
There's always a lot of debate over how much, or how little combine workouts affect a player's draft stock. But for such a borderline case like Tebow, you'd think he'd want to show his strength, speed and agility. Especially when some have him projected to play something other than quarterback.
Oh well. He's sure to ace the one mandatory test: the new baseline brain activity exam.

Tim Tebow opts out of all Combine drills [NBC Sports]