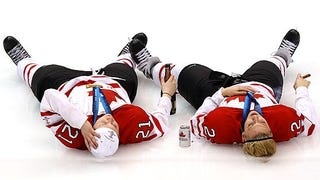 Because no one reads the newspaper, and SportsCenter's anchors are too perky for this early in the morning, Deadspin combs the best of the broadsheets and the blogosphere to bring you everything you need to know to start your day.
•To celebrate their gold medal win, Canada's women's hockey team - some of them underage - brought beers and cigars on the ice. The IOC is none too pleased, since they hate fun. And Sidney Crosby's chagrined because he can't grow facial hair as well.
•In other, slightly less awesome Olympians, Kim Yu-na demolished the field with a world record performance. For the first time since 1964, no American women medaled. Good! We didn't care about that stupid sport, that invariably gets the highest TV ratings, anyway!
•The Celtics were without Paul Pierce, and that's not fair. So Shaq left early with "a significant thumb injury." The Cavs still blew out Boston, running away with it in the fourth quarter. Back to Shaq: that's not good. Opposable thumbs are what separate men from animals, and rebounders from Hasheem Thabeet.
•Reports have Washington the favorite for next year's Winter Classic, which is a great selection, if you're looking for a team without an obvious opponent (the Pens won't get the game again) and a city which should be in the mid-40s on game day.
•Your daily Ozzie Guillen Tweet: "Looking for tickets to go to wrestlemania, I need help with that, they r way too expensive" Okay, my vote is to shut down Deadspin and just republish his Twitter feed every day.
•••••
'Nother Friday, come round again. I promise, it'll only hurt a little.