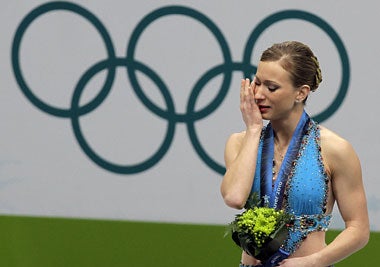 In sports, everyone is a winner—some people just win better than others. Like Hamilton and everyone else who had themselves another happy cry last night over Joannie Rochette, winner of a bronze medal that looks golden from here.
Rochette finished third less than a week after her mother, shortly after arriving in Vancouver, died of a heart attack. It's a wonder that she managed to leave the house, to say nothing of winning Olympic bronze. Scott Hamilton wept for the second time in three days, and even Slate's Sap-o-Meter couldn't bring itself to make fun:
The Sap-o-Meter, rarely one to commend NBC for restraint, must note that the network's coverage of Rochette's mother's tragic death has been commendable. On this night, when Rochette thrilled the home crowd with a third-place finish-and brought Hamilton to tears for the second time in three days-our Sappiest Line of the Day didn't even feel over the top. OK, maybe a little over the top. "A kiss to her father, a performance for her mom," crowed Bezic. "I've never seen such a superhuman amount of courage, determination-what an inspiration," added Hamilton. Play-by-play man Tom Hammond got the last word: "Under these circumstances, it is the stuff of Olympic legend."
For once, all the sentiment that NBC ladles over the Games was actually genuine.
Honorable mention: Kim Yu-Na, who edged out rival Mao Asada for gold and whose victory briefly turned the Korean press into Rick Reilly. From the Korea Times: "It remains to be seen whether anyone will emerge to challenge Kim ― her rivalry with Asada is now looking as lopsided as a Pyongyang election."