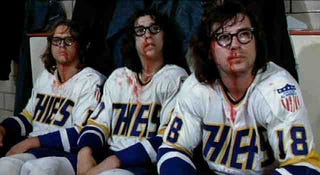 Tonight's Academy Awards promise to be a delightful several hours of programming. Following in the tradition of classic cinema like Rocky, Chariots of Fire, and The Sixth Man, sports movies are once again strong contenders for major awards.
The Blind Side is up for Best Picture and Actress (really) and Invictus's Morgan Freeman and Matt Damon are in the Lead and Supporting Actor categories, respectively. While neither film is expected to win, seeing a copy of either in bargain bins in five years with "2 Academy Award Nominations" and glowing blurbs from Jeffrey Lyons adorably emblazoned on their covers will be nice. Be on the lookout for Gawker's liveblog as today is a very big day over there.
•••••
Well, it's been a great day. The sun was shining and the music was blaring. Northern Iowa vanquished the dastardly Wichita State Three Fingers Shockers, Vince Carter finally proved he was better than Kobe Bryant and Michigan State won, so Dash should be in a good mood tomorrow. Thanks to all of you tipsters, Barry for everything, the great folks at Bergen Bagel and the tobacco industry, you're all the MVPs of the day.
Now, since we don't post The National enough for my comfort, listen to this and try to imagine you are running through the streets after coming to some great realization.