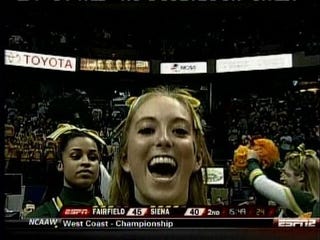 Because no one reads the newspaper, and SportsCenter's anchors are too perky for this early in the morning, Deadspin combs the best of the broadsheets and the blogosphere to bring you everything you need to know to start your day.
* The UConn women won their 71st straight game, breaking their own record for consecutive wins. Next up: The Big East Championship game against the Harlem Globetrotters. [Hartford Courant]
* Four teams got automatic bids to the men's NCAA tournament yesterday, but William & Mary still wasn't one of them. Maybe they should dump William. That guy is dead weight. (Siena, Wofford, Old Dominion and St. Mary's got the nods.) [Flat Hat News]
* Scott Fujita left the Saints for the Browns for some reason, but before leaving he donated half his playoff check to "coastal restoration" in New Orleans. I guess he hasn't seen Lake Erie yet. [Nola.com]
* Submissions have been tailing off, so just a reminder that you can still send "Morning Crap" pictures to tips@deadspin.com Otherwise you end up with disembodied cheerleader heads and cricket photos, so ... your funeral.
* * * * *
Tuesday. Suck it up.