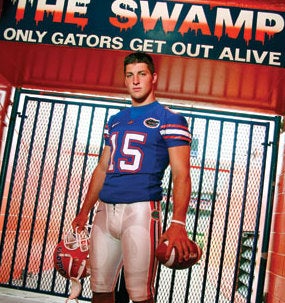 As the NFL Draft approaches, many team fanbases will attempt complex logical gymnastics to talk themselves into using a first-round pick on Florida quarterback Tim Tebow. Today: 49ers coach Mike Singletary seeks a younger version of Mike Singletary.
Future Tebow Employer: San Francisco 49ers
Justifiers: Dylan MacNamara, Bleacher Report (of course); Peter King
Summary of the Defense: Mike Singletary likes God and Winners and Tebow can't be any worse than Alex Smith.
Evidence:
(From January:) I think, if I had to guess right now, I'd say the best shot for Tim Tebow on draft day is San Francisco, at number 13. No proof. No solid evidence. Just this: The Niners gave a tepid endorsement to Alex Smith as their quarterback of 2010 after the season; and Mike Singletary didn't draft him; and Singletary is going to fall in love with Tebow once he meets him after the season; and Tebow is the kind of winner that Singletary has preached he wants since he took the job from Mike Nolan in mid-2008. After Singletary meets Tebow at the Scouting Combine, this is my prediction of his reaction: He'll turn to GM Scot McCloughan and say, "That's my guy. We've got to have him.''
As press time, there is no evidence he said that.
In Tebow, Singletary would see a younger version of himself, a teammate that his players could rally around; a player, who like himself in the mid-1980's, would serve as the inspirational juice for an otherwise uninspired team. ...

It's time to bring back the mystique...The innate quality the 49ers signal callers are known to carry from the time their alarm goes off in the morning to the time they go to sleep. San Francisco is a town of winners. Tim Tebow is a winner.
One more ringing endorsement from NFL Network's Mike Maycock
If I had a third-round pick and I wanted to develop a quarterback for two years. ... If I could shorten that (throwing) motion down and get his footwork together, and if the kid's willing to work at it - three years from now, do I believe I have a kid who I believe can win football games? Yeah, I would take a shot on him."
If anyone else out there tries to convince you that Tim Tebow is the right fit for your favorite NFL team, send their explanations here, because I would love to hear it.