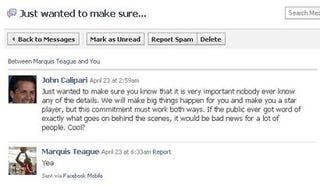 Because no one reads the newspaper, and SportsCenter's anchors are too perky for this early in the morning, Deadspin combs the best of the broadsheets and the blogosphere to bring you everything you need to know to start your day
• A fake John Calipari Facebook messaged the real Marquis Teague Facebook, telling the Kentucky-committed guard to keep unmentioned lurid details on the down-low. Teague's "ruh-roh"-inducing response: "Yea." When does Midnight Madness start?
• The Cavs stopped mollycoddling them and finally dispatched those pesky Chicago Bulls, even though LeBron's right arm fell off at the end or something. The Celtics will now have the honor of looking really old against the Cavs aftereliminating the Heat. The Mavs used a 20-point cushion to live on for a Game 6 in San Antone. And the Lake Show went up 3-2 in its series, humiliating Oklahoma City with a 24-point victory. Will the Thunder receive some sort of apology jewelry in Game 6?
• The Red Wings beat the Coyotes to advance to Round 2 where they'll undoubtedly rip-out some San Jose Fan-Heart.
• FanHouse's Clay Travis might be onto something with his damning piece on NFL teams' non-drafting of known-smartypants Myron Rolle.
• Tim Marchman at Slate re-reads George Will's Men at Work and posits that America's leading Tory muppet might've been the first mainsteam adopter of sabermetrics (and an OK writer besides). Universe-fracturing implications aside, any excuse to run this is welcome:
• Jozy Altidore, America's great striker hope — having finished his first season in the Premiership with a red card for head-butting, an apology on Twitter, and just two goals in 31 games — is headed back to Villarreal after Hull City's relegation. The Brits had taken to calling him "Dozy," which may be confusing to those of you unfamiliar with cockney rhyming slang.
*****
Good morning, friends. Bagels and fresh-squeezed OJ's up front. We got a lot more walking to do.