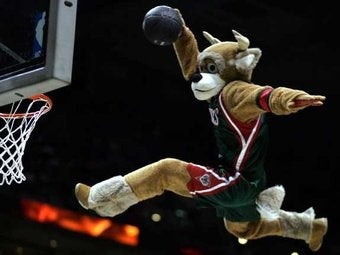 Fresh off his monumental feat during Game 4, Bango the Buck sat down with the Milwaukee Journal Sentinel's Don Walker to discuss the dunk, his training, his fears, and his hopes for the future. Highlights inside.
• He lives in an undisclosed "wooded estate."
• As scared as he was, he never actually practiced the stunt, in part to ensure there were no leaks to outside organizations/stunt-thieves and in part to prevent The Man (read: the Bucks, OSHA, his health insurance provider) from getting in his way. The latter was a distinct possibility. After all, this just happened to Rumble the Bison:
• He has "some other big tricks up [his] sleeve." Benny the Bull and the Phoenix Suns Gorilla have officially been put on notice.
Our exclusive interview with Bango [Milwaukee Journal Sentinel]
*****
Thank you for your continued support of Bangospin. It's trivia night but we'll be here tomorrow if you are. Deadspin National Week is at its halfway point.