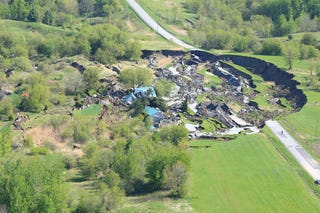 A Quebec family had just seen the Habs take the lead in game 6 Monday night, when...well, you can see the photo. Their house pretty much disappeared into the ground.
The Préfontaine family were sitting in front of their basement television to watch the Canadiens try to stay alive against the Penguins. At 9:30, about halfway through the third period, a massive sinkhole opened up beneath their home, killing all four of them.
So, what is it about the Canadian ground that has it out for fans of Les Habs? (Other than the thin topsoil sitting on an unstable layer of easily dissolvable clay, of course.) In 1971, 31 Quebecois were killed when a similar landslide occurred during game 1 of the Stanley Cup Finals.
The decisive game 7 is tonight, but Pens fans are already winners in one way. At least in Pittsburgh everything that can kill you is in plain sight.
Family swallowed by sinkhole watched Montreal Canadiens play hockey [National Post]